Mike MacKinnon's Personal Trainer Profile
Mike MacKinnon

, CPTN-CPT

Status:
Active
Phone (Day):
647-393-5312
Phone (Night):
647-393-5312
City:
Mississauga
Province/State:
Ontario
Country:
Canada
Education:
BComm
Certifications:
Specialties:

Fitness Education Instruction (Presenter)
Personal Training (In-Home / Gym / Online)
High Intensity Interval Training (HIIT)
Bodyweight Training (Calisthenics / Dips / Jump Squats / Burpees)
Functional Movement Patterns (Deadlifts / Lunges / Pushups / Planks / Squats / Walking)
Body Building (Muscle Mass Gain / Muscle Mass Growth / Sculpting)
Cardiovascular Training
Nutrition Coaching (Eating for Sports Performance / Eating for Muscle Gain / Eating for Fat Loss / Meal Preparation / Diet Planning)
Weight Management (Weight Loss / Fat Loss)
BOSU Balance Training

Affiliations:
Fit in 20 (Founder)
Web Search:
Fitness Education Instruction in Mississauga, Personal Training in Mississauga, High Intensity Interval Training in Mississauga, Bodyweight Training in Mississauga, Functional Movement Patterns in Mississauga, Body Building in Mississauga, Cardiovascular Training in Mississauga, Nutrition Coaching in Mississauga, Weight Management in Mississauga, BOSU Balance Training in Mississauga
Mike MacKinnon's Continuing Education Courses
Mike has completed the following additional courses for self-improvement and to improve client training:
YTS - FPM Bodyweight Specialist - Part 1: Double the Effectiveness of Bodyweight Training, Feb. 2014 (7 Hours)
YTS - FPM Program Design Specialist - Periodization of HIIT - Intensive, Mar. 2015 (7 Hours)
YTS - FPM Barbell Training Specialist - Progressive Olympic Lifting, Jan. 2015 (14 Hours)
YTS - FPM Program Design Specialist - Periodization of Flexibility Training, May 2015 (7 Hours)
Mike MacKinnon's Health & Fitness Reading Resources
Mike MacKinnon's Client Before/After Transformation Photos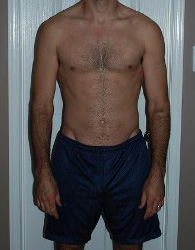 Before 2 Photo
After 2 Photo
Before 3 Photo
After 3 Photo
Before 4 Photo
After 4 Photo
Note: All approved before/after transformation photos are cropped from shoulder to knees to protect identities.
Mike MacKinnon's Videos of Practical / Instruction / Demonstrations
Mike MacKinnon's Awards / Media Recognition
Mike has not submitted references to reports, magazines, newspapers, radio or television media.
Mike MacKinnon's Reviews / References / Testimonials
I am a family physician. I was overweight all my life and thus had a low self-esteem. Since June 2007, I have been on a diet program and started losing weight. However, I did not feel any different and decided to work with a trainer at the advice of my dietician. To be honest, before I met Mike, I was skeptical due to the multiple failed exercise programs in the past. Mike's approachable demeanor and flexible schedule impressed me at our first meeting and my experience has continued to be positive. "Wow! I have hope after seeing you doctor" was a comment from one of my overweight patients within 2 weeks of starting the training. I have discovered a sense of confidence and a level of energy like never before. I have even lost 10lbs since I started training with Mike. I was amazed because my weight loss on the diet program was beginning to stall. Unlike general exercise programs in the past, Mike's sessions are productive because they are specific for me. There are not enough words to thank Mike for helping me boost my self-esteem. – Dr. Amitha M.
If you're reading this testimonial then I believe, no…, I know you've come to the right place. Prior to contacting Mike, I was skeptical, I was the type of person who wanted to get fit, but just wasn't motivated enough to do anything about it, and with a busy lifestyle I wasn't sure if a personal trainer was going to change that. Well I was wrong, Mike promptly returned my call and encouraged me to schedule a consultation with him. After my consultation, I knew I had made the right decision. Mike was knowledgeable and pleasant and took the time to sit down with me and put together a great food plan to fit my needs, and coach me how to eat properly and healthy, something I had never done in the past. We set a goal and started our workout sessions. Throughout my time with Mike, he made my session fun, but challenging and always educated me on proper exercise technique. He answered any questions I had regarding to my diet & weight training program, and most of all encouraged me to go that extra step. In 2 short months Mike has gone beyond my goals and expectations of what I could ever achieve at any gym. He has truly given me the confidence, tools and energy I need to continue towards a healthier lifestyle. I would like to personally thank Mike for all his time and effort he has invested in our sessions. I consider Mike a true friend and a professional, and would definitely let anyone know if you're looking to change your life, and your health then make that phone call, and let Mike get you there. – Mario S.
I have worked with Mike for the last 2 years. In those 2 years Mike helped keep me motivated well helping me achieve my goals. Mike is a personable trainer who is easy to get along with. He has a strong knowledge of exercise and diet and helped me understand the relationship between the two. I would recommend Mike as a personal trainer! – Tyrone D.